Our Ultimate Guide To Making Beer Scented Candles
If you are a lover of beer you might have thought about making beer-scented candles, but how do you make them? Do you pour alcohol into the candles?
To make beer-scented candles you will need some candle dye, beer fragrance oil and wax, you can't pour beer into the candle otherwise it will burn too fast due to the alcohol.
Down below, we've discussed in more detail if you can put alcohol in candles, a step-by-step guide to making beer candles and some tips for making the best beer scented candle.
Can You Put Beer In Candles? 
To make a beer scented candle, you might be curious as to if you can pour beer into candles to make a beer candle. To make these candles you will need to use beer fragrance oil so that they can have a beer smell, alcoholic beer will just burn off.
Not only will alcoholic beer burn off in candles, but it's also flammable, so is dangerous to put inside candles, that's why you can't use perfume too.
Our Step By Step Guide To Making Beer Scented Candles 
Once you've found a beer-scented fragrance oil, making beer scented candles is much easier than you think. 
We've listed a simple-to-follow step-by-step guide down below. 
Equipment 
400g of gel wax. 
Yellow candle dye.
Beer scented fragrance oil.
Zinc candle wick. 
Sturdy beer tumbler.
Pencil.
Soy wax.
How To 
Begin by slicing your gel candle wax into very small pieces, put the gel candle wax into a stainless steel pot then place the pot over medium heat and let it come to 94 degrees, avoid the wax becoming too hot.
Next, take the wax off the heat and allow the melted gel candle wax to cool before adding your colour and fragrance, this is required for most fragrances. Add in a few drops of your liquid candle dye, this could be yellow or brown.
Now stir in your alcohol fragrances, around 41 grams will be more than enough, make sure the fragrance oil matches the gel wax otherwise it could be dangerous.
Take your strong beer tumbler and place a drop of hot glue in the bottom and glue the zinc wick string to the centre, hold in place with a pencil tied on top. Make sure you do not use cotton string because otherwise, it can soak up the gel.
Pour the melting candle wax into the glass, allow some bubbles to form since this is a beer candle, and leave at least 2 inches from the top so we can make room for the foam on top.
Leave the candle to set for a few hours.
Place your soy wax into a pan, you can use a double boiler method with a few inches of boiling water in the pan below. Make sure the soy wax is cut up small to help it melt faster, let the wax reach 160F.
Take the wax off the heat and let it turn cloudy, whip the regular candle wax with a fork, you might want to protect your eyes while doing this. Scoop the foam on top of your candle to make the beer foam.
Let the whole candle set and trim the wick down before lighting.
Learn here how much scent to add to candles.
Tips For Making A Beer Scented Candle
Making actual candles is a fun and crafty task, but you can run into problems if you are a candle maker beginner. 
We've listed some essential tips for making a beer scented candle down below.
Weigh your fragrance oil – Don't just spoon your fragrance oil into the wax, instead weigh it out to get the ratio right, same for your liquid candle dye, this also allows you to take notes properly.
Take notes – Taking notes when making your beer scented candles is important, from the amount of fragrance you use to the temperature of the wax when you pour, this allows you to improve.
Heat the container before – Heating the candle container before allows the wax to cool down more slowly which stops it from getting air bubbles, wax which cools too fast can set unevenly and get bubbles.
Frequently Asked Questions About Making A Beer Scented Candle
What wax do usual store-bought candles use? 
Store bought candles use paraffin wax rather than beeswax or soy wax, this is because it holds candle smell better, but it is more toxic once burned.
What ratio of fragrance oil should I use to wax? 
You should add at least 10% of fragrance oil from the wax's weight, then adjust accordingly to the strength of the scent you want.
Which candle-making supplies do I need for making a candle?
You will need a wick, pencil, candle safe jar, wax, fragrance oil and candle tint. You will also need a melting pot.
Does a beeswax candle hold scent well? 
Yes, beeswax candles can be made scented but they will also have their natural sweet smell, you will need to mix beeswax with coconut oil in order to carry the scent better.
Last Words
Overall, making beer scented candles is simple, all you will need is some beer fragrance oil and tint, never use beer for making a candle since it is flammable and it will burn down.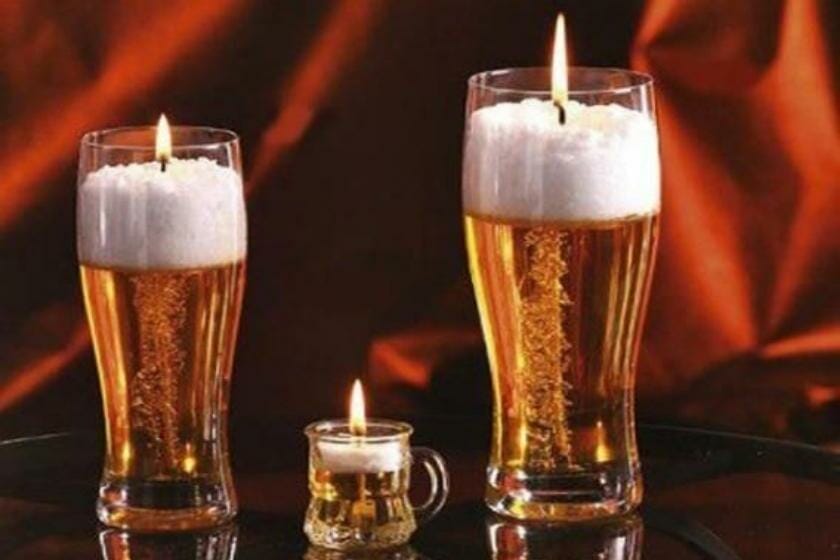 Make sure you use a candle safe jar for making your candle and the right type of wick for gel wax otherwise the candle might not burn properly. Keep an eye on temperatures when melting your wax to avoid overheating it and allow it to cool well before pouring.
Check this out! How To Make Wine Scented Candles?
Smell is one of the human senses which can flow through the whole body. I am the Founder of NeoCandle.com where we talk all about scented candles. Known as Candace the Candle Girl, I know pretty much all there is to know about scented candles. I make and sell them on Etsy and Ebay – so be sure to ask if you have any burning questions 🙂 (pun intended 😉 )